With more than 30 years customers` actual operation and technology improvement, 1500mm two/three/five layers fully automatic stretch film machine is mature and cost-effective, some whole production line adopt melt metering pump technology and high precision pressure sensor system, which can stably and effective to control the pressure. It will highly improves film horizontal and vertical`s tension strength and anti-puncture resistance and make the film meeting the high requirement for machine packing film. The cooling roller adopts big diameter design and special double-decker runner, greatly improving the cooling effect of high-speed production to guarantee good uniformity of cooling roll surface temperature. The film produced by this machine has good shrinking memory function and self-sticky, which can be widely used in wrapping of palletized goods. It`s good substitute for hot shrinking packing film during transportation.
*Related Products:pe casting film machine,pe cling film machine,pe Protective Film Machinery.

Machine Pictures: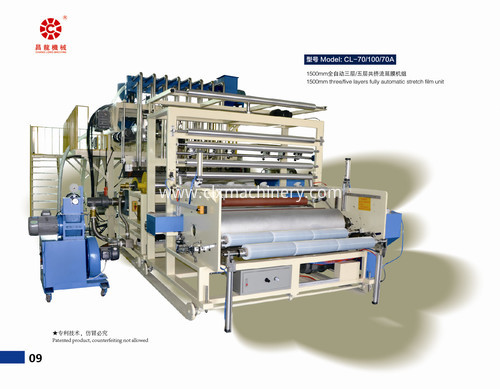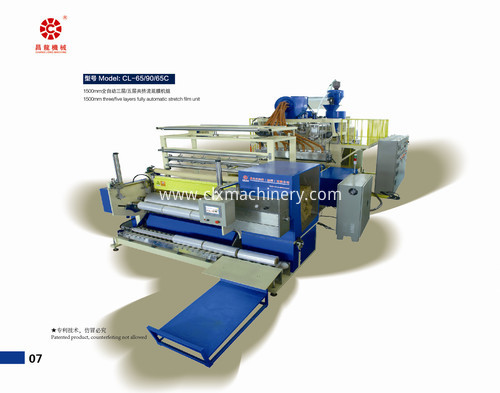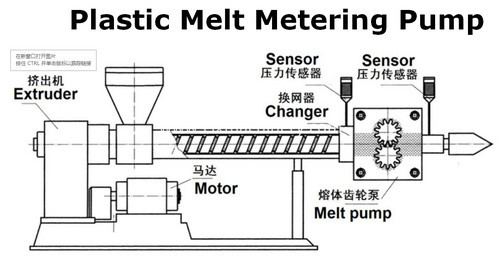 Plastic melt metering pump is more and more important in extrusion process, especially in high-end products industries, such as high quality sheets, pipes, BOPP, optical cable.
Installing the melt metering pump in the cast stretch film unit, which can keep the production constantly and efficiency. The pump can improve the product quality, stable the production and decrease the energy consume.
The housing is made of chromium-nickel alloy or nickel-base alloy, titanium alloy. The gear is made of quenching chromium steel, other metal materials are also applicable. Bearing is made of graphite NIAG, zirconium oxide or quench tool steel.
Advantages:
FAST AND STABLE FLOW SUPPLY
Eliminated the extruder`s pulsation wave. Improve the product quality, decrease the defective rate, and decrease the waste, which can save 2% material and 25% of the unit power consumption.
STABLE AND EFFICIENCY PRESSURE CONTROL
The melt pump can provide a stable pressure, which short the discharge time obviously and make the production effectively.
INCREASE THE EXTRUDER OUTPUT AND THE MACHINE LIFE
It has been found that after install the melt pump, the max pressure wave value is the pressure after pump. Which can make the inner pressure of the extruder decrease, the melt shear strength decrease, the temperature curve gently, and restrain the temperature rising. Also the melt pump can avoid the damage to the extruder from the high pressure.
Produced Films