Affected by the trend of international plastic stretch film packaging, domestic beer and beverage manufacturers have begun to use plastic stretch
film packaging in the product packaging process and gradually replaced traditional carton packaging and plastic turnover boxes.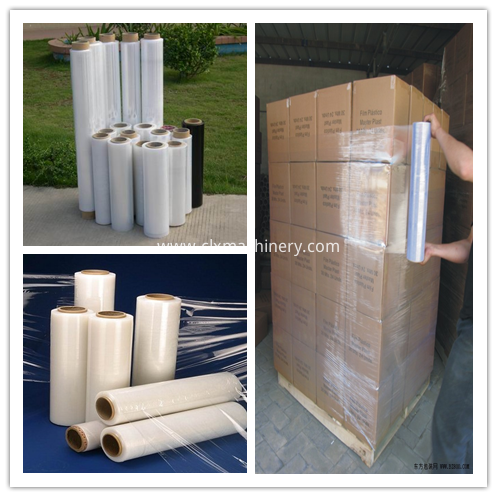 The advantages of adopting plastic stretch film packaging are: low packaging cost; effectively reduce accidents caused by burst bottles; to solve the problem of contamination of the surface of the memory bottle during the circulation and stacking of the plastic turnover box; a wide range of applications, such as can be used for glass bottles Packaging of products such as metal cans and cartons; and giving consumers a new look.
The market demand for plastic stretch film packaging equipment has greatly increased because of the various advantages of plastic stretch film
,therefore, the outlook for plastic packaging is very optimistic. Applied the introduction from advanced foreign technologies, more than 10 domestic companies, including Changlongxing Science & Technology (ShenZhen)Co.,LTD, Changlong Science & Technology (YangJiang) Co.,LTD
have updated the plastic stretch film making machine with high configurations which has a
strong sales momentum.
Industry experts believe that the market for plastic stretch film packaging machinery and equipment is promising. More companies will join this field in the future, the competition will become increasingly fierce. How to reflect self-advantages and characteristics, manufacturing companies should not only to work harder and harder on Stretch Film Machine quality, but also should start from the actual demand of different industries and enterprises, to research and development different specifications and performance of the stretch film
equipment.
CHANGLONGXING SCIENCE & TECHNOLOGY (SHENZHEN) CO.,LTD
Business Type:Manufacturer
Product Range:Plastic Extruders
Products/Service:Stretch Film Machinery , Cast Film Machinery , Protective Film Machinery , Embossing Film Machinery , Cling Film Machinery , Rewinding Slitter Machinery
Certificate:CE , ISO9001
Company Address:No.9,ChuangYe R.d.The Third ShuiTian Comnunity,ShiYan Office,BaoAn District, Shenzhen, Guangdong, China


Previous: Japan's Machinery Orders Decreased 11% After The Seasonal Adjustments